Finished packaged products
Precision measurement for industry
The RADWAG DWM and DWT balances are designed to control unit loads of mass from 600 g to 7500 g. They meet special customer requirements or the "Law on the Control of Packaged Goods".
SCALE DWT/HL/HP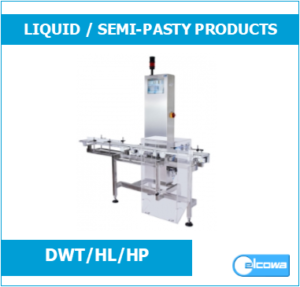 The RADWAG DWT/HL/HP scale is a modern, advanced and reliable construction that guarantees a stable and trouble-free weighing process of produced goods. The optional version of the DWT/HL/HP scale equipped with a metal detector detects metal splinters that may accidentally be present in the products.
The control system was developed with reference to the Windows Embedded computer system and SQL Server database module. The scale has a wide range of applications thanks to its adaptability to individual customer needs and requirements. The industrial computer is designed for work under difficult conditions. The cooperation with the special version of the Windows system makes the scale stable and allows to keep suitable parameters. The graphic panel ensures intuitive operation of the scale.
TECHNICAL DATA
MAXIMAL CAPACITY

600 to 7500 g

READING

 ACCURACY

0,2 to 5 g

TARE

RANGE

-600 to -7500g

SCREEN

5.7″ colour touch resistant

DEGREE OF PROTECTION

IP 55, IP 65

POWER UNIT

100 ÷ 240 V AC 50 / 60 Hz

KEYBOARD

5 function keys

POWER UNIT

Battery (up to 35h) and power supply

WORKING

 TEMPERATURE

0  ÷ +40°C

EFFECTIVENESS

 

Max 180 pieces per minute

SPEED

0,1-1 m/s

FINISH

Stainless steel
AUTOMATIC SCALE DWM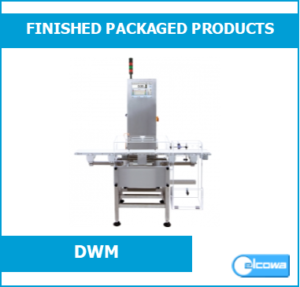 The DWM automatic balance guarantees the highest quality of workmanship and weighing accuracy. It is widely used in the pharmaceutical and food industries. Thanks to the application of the electromagnetic module, the balance ensures very fast mass measurement (efficiency depends on the dimensions and mass of a product). This weighing unit is equipped with an intuitive interface and many other built-in functions that facilitate servicing and statistical data recording. The automatic scale allows precise control of packaged goods in accordance with the "Law on the Control of Packaged Goods".
The scale is equipped with a modular support structure, which makes it possible to freely configure the scale equipment. Extended communication modules guarantee a complete integration of the scale with the production line. This allows the scale to work without being serviced by an operator. The automatic DWM scale connection to the EDP system provides an online overview of a production process, weighing records as well as report generation with consideration of scale statistics, quantity statistics, line stoppages and breakdowns.
TECHNICAL DATA
MAXIMAL CAPACITY

750 to 7 500 g

MINIMUM

CAPACITY

2 to 20 g

READING

ACCURACY

0,1 to 1 g

TARE

RANGE

 – 750 to 7500 g

LEGALIZATIONLEVEL

0,1 to 1 g

MAXIMUM READABILITY 
FOR THE VERIFIED SCALE

0,1 to 1 g

HIGHER

 ELEMENTAIRY 

LEVEL

0,05 to 5g

ACCURACY CLASS OIML

XIII (1), Y (2)

DEGREE

 OF PROTECTION

IP55, IP65

INTERFACE COMMUNICATION

Ethernet, USB, RS232, I/O

POWER UNIT

100 ÷ 240 V AC 50/60 Hz

WORKING

 TEMPERATURE

+5 ÷ +40°C

KEYBOARD

Touchpad

CONSTRUCTION

Painted steel / stainless steel

SPEED

1,6 m/s