PQC service – METAL DETECTION
In agri-food, pharmaceutical and cosmetic products
You don't have metal detectors? Your device has encountered a malfunction? Your finished products have an aluminised film, an aluminium container, a metal label, a clip or a magnet? Are you looking for a better detection threshold before delivering to your end customers? You do not want to take any risk for the consumer? You fear a recall for your company's brand image?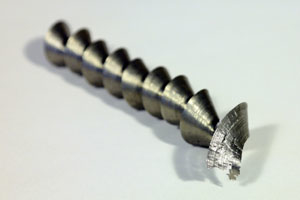 We have the solution! With the help of our X-ray technology equipment, our selected and experienced staff, we can provide you with all the control guarantees you need to put your products back on the market.
Unlike conventional metal detectors
(with magnetic fields) X-ray technology enables
to obtain much better sensitivities to remove fragments of stainless steels such as 304 and 316L stainless steel (most frequently used in the food, pharmaceutical or cosmetic industries)
With the exception of aluminium* all metals such as steel, iron, stainless steel, copper, brass and bronze have a very close density and therefore an equivalent detection threshold.
For X-ray technology, the detection thresholds are defined by the ratio between the density/thickness of the foreign body to be searched for and the density/thickness of the product to be passed through for control purposes. For this reason the unitary control is necessary for the search for fragments. For parts such as screws, washers, keys, nuts, etc… the box/carton inspection is preferred to reduce costs.
* Detectable or not depending on its composition.
ELCOWA, 25 years of experience in the search for foreign bodies or defects has a fully dedicated control centre in Mulhouse to help you quickly manage this type of crisis. Leader in Europe in this field, do not hesitate to contact us for any information, advice, free tests, estimates or controls.
Detecting metal in metal packaging is possible!