TEXTILE INDUSTRIES, METAL DETECTORS AND SEPARATORS
Bulk, packaged, in-process, pasty or semi-liquid products
MESUTRONICmetal detectors or separators guarantee the quality of your products.
Thanks to our equipment, your products but also your machines are protected at all stages of your process. We design and manufacture complete detection systems adapted to your products, easy to integrate on your lines and able to communicate with your quality management system.
All ferrous and non-ferrous metals and stainless steels (stainless steel) are accurately detected and ejected.
METRON PROFILINE
Depending on the application and bandwidth, two variants of detection systems are available: a single-segment version and a multi-segment version.
With the multi-segment design, the detection accuracy is maintained even for large bandwidths to be monitored. Metal contamination is indicated by an LED display and shows precisely where the metallic foreign body is located.
METRON C
The protection of carding machines is a particularly interesting application, on the one hand because of the large working width and on the other hand because of the extremely slow transport speed. MESUTRONIC metal detectors detect even the slightest metal contamination under these difficult conditions and thus protect your valuable carding machine.
METRON POWERLINE
These metal detectors are intended for use in pneumatic fibre transport lines, but can also be used in free-fall lines. The encapsulated detector coil is then integrated directly into the existing pipe system without any additional pipes and is thus protected against possible external interference.
The sensing loops are either circular or rectangular, depending on the type of line or pipe.
High Speed TEXREJECT
This option is an ideal complement to the Powerline metal detector. This system is capable of reliably deflecting textile fibre flows in conveying lines by blowing or suction. No type of ejection is faster and more reliable! Combined with our metal detector, the diverter reacts in a fraction of a second to every metal detection. The unit is very compact and can easily be integrated into any production facility. Since the introduction of this range of metal detectors combined with the high-speed ejector, production stoppages, machine damage, large scrap losses and fires are now a thing of the past.
DES SOLUTIONS PERSONNALISÉES
Whether demanding production processes, high conveying speeds or difficult conditions, MESUTRONIC offers you individual and economical solutions. Sensors, conveyors and ejection systems as well as control and evaluation electronics can be combined as required.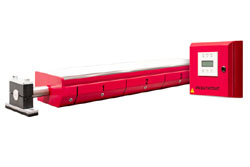 METRON-PROFILINE
Détecteur plat multi-segments pour la protection des produits en large bande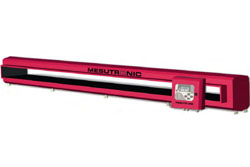 METRON-C
Détecteur de métaux pour la protection des équipements de cardage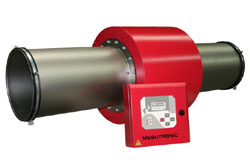 METRON-05-POWERLINE
Détecteur de métaux pour la protection des lignes de transport pneumatique de fibres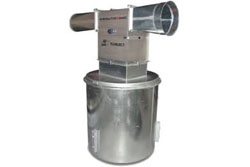 HIGH-SPEED-TEXREJECT
Système d'éjection spécialement étudié pour fonctionner avec le détecteur de métaux Powerline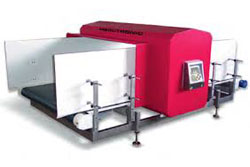 Application spécifique
Détection dans des balles de fibres en amont d'une cardeuse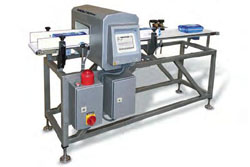 Application spécifique
Ensemble détection de métaux sur convoyeur avec éjection adaptée pour le contrôle de produits d'hygiène
Metal fragments are the most common foreign bodies!