TEXTILE INDUSTRIES, METAL DETECTORS AND SEPARATORS
Bulk, packaged, in-process, pasty or semi-liquid products
Our metal detectors or separators ensure the quality of your products by protecting both your products and machines at every step of the process.
We design and manufacture comprehensive detection systems that are specifically tailored to your products. These systems are easy to integrate into your production lines and can interact with your quality management system.
With unmatched precision, our equipment detects and ejects all types of ferrous, non-ferrous, and stainless steel (Inox) metals.
Our main partner is the German company MESUTRONIC, renowned for its expertise and innovation capabilities for over 25 years.
METRON PROFILINE
We offer two variations of detection systems based on the application and width of the belt: a single-segment version and a multi-segment version.
With the multi-segment design, even large belt widths maintain high detection accuracy. An LED display indicates the presence of metallic contamination and precisely identifies the location of the foreign metallic object.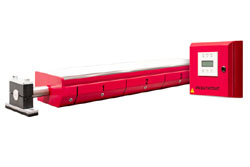 METRON-PROFILINE
Flat Multi-Segment Detector for Wide Band Product Protection
METRON C
The protection of carding machines is of particular interest due to their significant working width and extremely slow transport speed.
Even in these challenging conditions, our industrial metal detectors are capable of detecting even the slightest metallic contaminations, ensuring the protection of your valuable carding machine.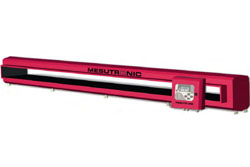 METRON-C
Metal Detector for Carding Equipment Protection
METRON POWERLINE
Industrial metal detectors are designed to be used in pneumatic fiber transport pipelines as well as in free-fall pipelines. The detection coil is encapsulated and integrated directly onto the existing pipeline system, without requiring any additional tubing.
This allows for protection against potential external disturbances. The detection loops can be circular or rectangular, depending on the type of pipeline or tubing you are using.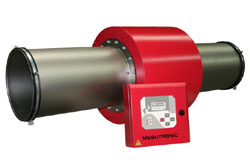 METRON-05-POWERLINE
Metal Detector for Pneumatic Fiber Transport Line Protection
High Speed TEXREJECT
This option is an ideal complement to the Powerline industrial metal detector. This system is capable of reliably diverting textile fiber flows in blow or suction transport pipelines. No other ejection method is as fast and reliable.
When combined with our metal detector, the diverter reacts within a fraction of a second to each metal detection. The system is compact and can easily be integrated into any production facility.
Since the introduction of this range of metal detectors combined with the ultra-fast ejector, production stoppages, machine damages, significant material losses, and fires are now a thing of the past.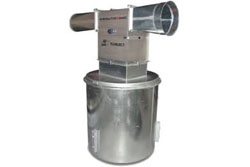 HIGH-SPEED-TEXREJECT
Ejection system specifically designed to work in conjunction with the Powerline metal detector.
CUSTOMIZED SOLUTIONS
Whether it's complex production processes, high conveying speeds, or challenging conditions, MESUTRONIC offers personalized and cost-effective solutions. Industrial metal detectors, conveyors, ejection systems, as well as electronic control and evaluation components are combined based on your specific needs.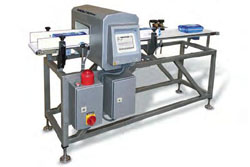 Specific application
Metal detection system on a conveyor with tailored ejection for the inspection of hygiene products.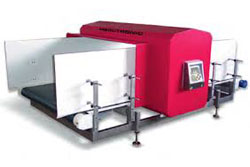 Specific Application
Detection in fiber bales upstream of a carding machine
Metal fragments are the most common foreign bodies!