MEAT INDUSTRIES, METAL DETECTORS AND SEPARATORS
Bulk, packaged, in-process, pasty or semi-liquid products
Specially designed for the meat, meat products, cured meat and meat processing industries or even slaughterhouses, MESUTRONIC metal detectors or separators guarantee the optimum quality of your products but your machines are also protected at all stages of your process. We design and manufacture complete detection systems that are adapted to your needs, easy to integrate on your lines and capable of communicating with your quality management system. The hygienic design of these systems, their robust construction and their high resistance against all types of cleaning will satisfy you in your daily work.
All ferrous and non-ferrous metals and stainless steels (stainless steel) are precisely detected and ejected.
METRON-C / TRANSTRON
METRON tunnel sensors mounted on our TRANSTRON conveyor systems offer the most suitable means to protect production as early as the receipt of raw materials, e.g. the control of fresh meat in Euronorm E1, E2 or E3 containers. Detection loops are also integrated at the infeed of the mincers in order to check fresh meat or frozen meat blocks for the absence of metals. Fragments of knives, links or even whole meat hooks are detected and discarded in order to ensure continuity of production under the best possible conditions.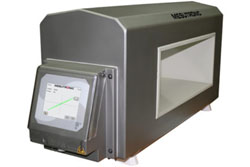 METRON-07-CI
Tunnel metal detector for packaged, in-process or bulk products (Horizontal detection)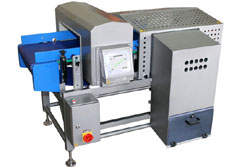 TRANSTRON
Conveyor systems, the indispensable complement to your metal detectors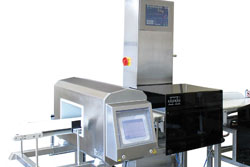 Combined metal detector + checkweigher, for packaged products (Horizontal detection)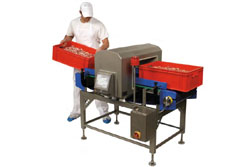 TRANSTRON + METRON 07 CI
Conveyor and Tunnel Metal Detector for packaged, in-process or bulk products (Horizontal detection)
QUICKTRON
Metal separators in this range, commonly called gravity detectors, monitor free-falling materials such as meat ore for example. Its integrated ejection system combined with two-channel signal processing provides optimum safety from receipt to dispatch of the products. The very short ejection time of contaminated products reduces the amount of scrap and reduces losses. The compact dimensions and standardized connection allow easy integration into your existing production line.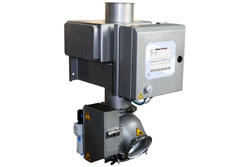 QUICKTRON-07-RH
Metal detector with ejection for bulk material such as meat ore (Vertical detection)
MEATLINE
The safety between the pusher and the casing for sausage making. This range of metal separators safely and continuously remove small metal particles such as iron, steel, brass, copper, bronze, aluminium and stainless steels from sausage meat. The sources of danger come from upstream processing machines, such as mincers, cutters, etc. All these detectors are easy to use, have a high resistance to cleaning, the hygienic design and easy disassembly make them highly efficient equipment. The special requirements with regard to the mobility required in this field are taken into account by an integrated impact protection, a robust frame with no risk of tipping over and the precise height adjustment by means of a screw. They can be connected mechanically and electrically to all plungers commonly found in the meat industry. Optional accessories are also available: magnetic systems for ferrous metal capture, test sample insertion tubes and a range of ejection systems.
MEATLINE-07-+
Mobile metal detection system for the inspection of pasty products in the salt industry. The AMD 07 analysis electronics allow for greater detection accuracy and efficient data management. Easy and efficient operation thanks to a touch screen and an intuitive user interface.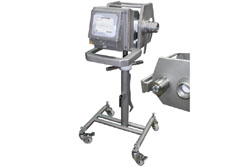 MEATLINE-07-+
Metal detector on piping for the protection of pushers and clippers (Horizontal detection) with optional twister extension
MEATLINE 07 O
This metal detector has an integrated ejector and is used on pushers equipped with a clipper or twister. The specific ejection valve ensures a controlled and total ejection safety, even for products with pieces. It is absolutely leak-proof and minimizes the quantity of product ejected. The valve can be disassembled in less than 10 seconds for cleaning and without risk of loss of parts. With an opening of 80 to 100 mm, it can be connected to vacuum plungers for ham production.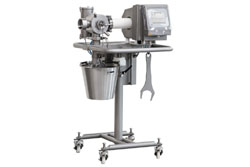 MEATLINE-07-O
Pipe metal detector with integrated ejector for push-button protection (Horizontal detection)
MEATLINE 07
This version is particularly used on dry sausage production lines. The small size of the unit minimises weight variations and the risk of stuffing. In case of metal detection, the pusher is stopped, the clipper is inhibited and the system can be cleaned. As an option, a twister transmission extension is available (MEATLINE 07 +).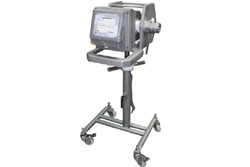 MEATLINE-07
Metal detector on pipes for the protection of pushers and clippers (Horizontal detection)
Metal fragments are the most common foreign bodies!