Service PQC – METAL PARTICULATE DETECTORS (MPD)
In agri-food, pharmaceutical and cosmetic products
Widely distributed since the 1980s, compulsory for export as for example in England and Japan, they operate on the principle of eddy currents (magnetic field technology). A detection unit consists of a loop, a transport system and an ejector. There are as many configurations as there are products, bulk, packaged products, liquids or pastes.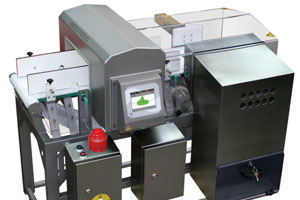 Consisting of two emitting coils and one receiving coil, the detection loop allows to detect absolutely all metals such as steel, stainless steel, iron, brass, bronze, copper, etc… with more or less ease depending on the magnetic field induced by the type of metal.
Paradoxically, the stainless steels most commonly used in our industries such as 304 or 316 stainless steel are the least detectable. For this reason, to qualify a device on these detection capacities, Fe, non-Fe and stainless steel thresholds are defined.
DPM vs RAYONS-X ! As the two technologies are different, very often X-ray inspection systems allow much better detection sensitivities because the nature of the metal being detected has almost no influence on the results. Moreover, DPMs are ineffective on finished products containing metal (aluminium trays, metal lids, steel cans, etc.).
With the help of our X-ray technology equipment, our selected and experienced staff we can provide you with all the control guarantees to put your products back on the market in case of proven pollution or malfunction of your control equipment .
ELCOWA, 25 years of experience in the search for foreign bodies or defects has a fully dedicated control centre in Mulhouse to help you quickly manage this type of crisis. Leader in Europe in this field, do not hesitate to contact us for any information, advice, free tests, quotation or controls.
MPD vs RAYONS-X, finer detection is possible!