PQC Service – FAULT DETECTION
In agri-food, pharmaceutical and cosmetic products
Many of the defects found are subject to reminders. Some are of no consequence to the consumer, others, such as cross-contamination of pharmaceutical products, can be dramatic.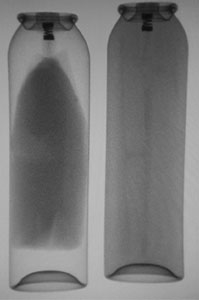 Our staff is selected through specific tests for on-screen inspection and over time develops increased visual acuity. We can therefore offer you control using X-ray technology and/or fine inspection with the naked eye.
ELCOWA, with 25 years of experience in the search for foreign bodies, defects or weight control, has a fully dedicated control centre in Mulhouse to help you quickly manage this type of crisis. Leader in Europe in these fields, do not hesitate to contact us for any information, advice, free tests, estimates or controls.
The main gaps encountered (non-exhaustive list) :
– Glass defects
– Poor filling
– Absence of cannula, valve, spring, dosette, product, leaflet, desiccant
– Presence of non-conforming parts
Our staff is selected and experienced for the control, we can bring you all the guarantees for this type of research and put your products back on the market or at your final customers.
Visualization of defects we have solutions!