X-RAY INSPECTION
Detection of foreign bodies in the agri-food industry
ELCOWA s.a. représente la marque EAGLE PI en France, Belgique et Maroc.
Présente dans le monde entier EAGLE PRODUCT INSPECTION propose une gamme étendue de systèmes à rayons-X pour assurer la sécurité et l'intégrité des produits alimentaires en vrac, liquides, semi-pâteux ou emballés. Ces matériels d'inspection en ligne réduisent les risques de rappel de produits, préservent la réputation de la marque et protègent les consommateurs des contaminants dangereux ou autres aliments non conformes.
Investir dans un équipement de contrôle à technologie rayons-X facilite également la mise en conformité des fabricants agroalimentaires avec les normes reconnues par la Global Food Safety Initiative (GFSI) fondées sur la méthode HACCP (analyse des dangers et points critiques pour leur maîtrise), telles que :
La norme mondiale de sécurité alimentaire du British Retail Consortium (BRC)
La norme International Food Standard (IFS)
Le code Safe Quality Food (SQF) 2000
La certification Foundation for Food Safety Certification (FSSC) 22000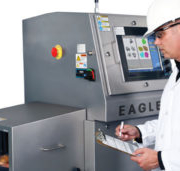 Les solutions EAGLE PI offrent une sensibilité de détection exceptionnelle pour les contaminants denses suivants, indépendamment de leur taille, forme ou emplacement au sein d'une grande variété de produits :
Éclats de verre (dont les contaminants en verre dans les contenants en verre)
Fragments métalliques (dont le métal dans les films métallisés ou les feuilles d'aluminium)
Pierres minérales
Certains plastiques et caoutchoucs
Os calcifiés
En plus d'assurer la salubrité des aliments, ces systèmes constituent un outil hautement efficace pour garantir la satisfaction des clients. En effet, en permettant aux fabricants d'inspecter l'intérieur des emballages, ils augmentent la productivité via la réalisation des contrôles qualité suivants sur la chaîne :
Inspection des niveaux de remplissage – Mesure de masse – Inspection du scellage – Comptage des composants
En outre, les emballages métalliques (films métallisés ou feuilles d'aluminium) ainsi que les variations de température et de teneur en humidité des produits n'ont aucune incidence sur la sensibilité de détection des contaminants. Nous proposons des solutions pour inspecter les produits dans les types d'emballages suivants :
Produits non emballés, en vrac, contenants rigides de grande taille (dont les contenants en verre, en métal et en céramique), contenants en plastique, cartons, caisses, boîtes, sachets, sacs, barquettes et tubes.
Conception hygiénique
Nous sommes parfaitement conscients que la conception hygiénique des systèmes d'inspection par rayons X est fondamentale en vue d'éliminer tout risque d'apparition et de propagation de contamination biologique dans les usines de transformation alimentaire. Pour cela, l'ensemble de nos systèmes offre un nettoyage aisé et satisfait aux directives internationales en matière de conception hygiénique. Ils sont dotés de série d'un indice de protection IP65 pour répondre aux principales exigences sanitaires et IP69K en option pour une utilisation en environnements soumis à des lavages intensifs.
Nos applications couvrent les segments suivants :
Plats préparés, boulangerie-pâtisserie, produits laitiers, fruits et légumes, condiments, poissons et fruits de mer, produits à grignoter, céréales et graines, confiserie, aliments pour bébés ( Babyfood), viandes, volailles, aliments pour animaux ( Petfood), boissons, produits pharmaceutiques, pièces mécaniques.

Seafood products

Fruits and Vegetables

Children's products (Babyfood)

Poultry

Prepared dishes

Red meats

Drinks

Petfood

Pharmaceutical products
Mechanical industries
Take advantage of our many years of experience to protect your lines, your products, your customers!