Service PQC – SEARCH FOR MAGNETIC SPECIFICATIONS (AIMASCAN)
In food, pharmaceutical and cosmetic products in aluminised or pure aluminium packaging
The AIMASCAN is a detection and inspection device specially designed for all products to be checked in aluminized or pure aluminium packaging. It detects all magnetizable metals such as iron, steel and even weakly magnetic stainless steels.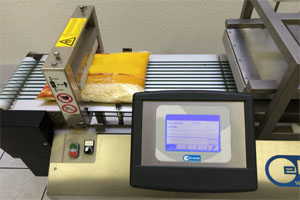 The system consists of a high-powered magnet at the input, adjustable in height to increase tenfold the field induced by the metal fragment before passing over two ultra-sensitive surface sensors adjustable to the exact dimensions of the product to be controlled. It works in automatic ejection or visual ejection for very fine applications with the help of a screen reproducing in real time the signal received by the sensors.
Contrary to traditional metal particle detectors (MPD), the AIMASCAN is insensitive to the effect produced (water, salt, etc…). For products less than 160 mm high, it reaches unequalled sensitivities for the search for magnetic particles.
DPM, RAYONS-X, AIMASCAN, three technological solutions to meet your needs!
With the help of our equipment, our selected and experienced staff we can bring you all the control guarantees to put your products back on the market in case of proven pollution or malfunctions of your control equipment.
ELCOWA, 25 years of experience in the search for foreign bodies or defects has a fully dedicated control centre in Mulhouse to help you quickly manage this type of crisis. Leader in Europe in this field, do not hesitate to contact us for any information, advice, free tests, quotation or controls.
AIMASCAN, the indispensable link between MPD and X-RAY!