PQC Service – VISUALIZATION OF FAULTS (Visual Inspection)
In agri-food, pharmaceutical and cosmetic products
For certain applications such as glass defects for example, there is no technology to replace visual inspection. For the control of foreign bodies or defects on screen, our staff has successfully passed a specific vision test beforehand. Intelligence, optical equipment (glasses, lenses, etc…) have no influence on the success of the test, it is a more or less pronounced ability that one possesses or does not possess and that can be increased over time.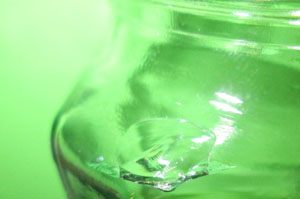 ELCOWA, with 25 years of experience in the search for foreign bodies, defects or weight control, has a fully dedicated control centre in Mulhouse to help you quickly manage this type of crisis. Leader in Europe in these fields, do not hesitate to contact us for any information, advice, free tests, estimates or controls.
Inspection can be carried out on finished products if the defect is visible from the outside or 100% on empty packaging. This type of inspection is often used to test a new supplier, to make him responsible or to prove the defectiveness of the packaging delivered.
The main glass defects :
– Glazes
– Eclats
– Bouillon
– Grains
– Cracks
– Chips
– Needles
– Wings
– Trapezoids
Our selected and experienced staff for the control, we can bring you all the guarantees for this type of research and put your products back on the market or at your final customers.
Visualization of glass defects, we have a strong eye!