AUTOMATIC WEIGHING AND LABELLING MACHINE
For the agri-food industry
ELCOWA's LS 4500 high-speed automatic weighing and labelling machines are specially developed for industrial environments and for productions requiring automatic weight/price labelling. They can be installed on the production line (often after packaging) and can be integrated into the customer's information systems.
LS 4500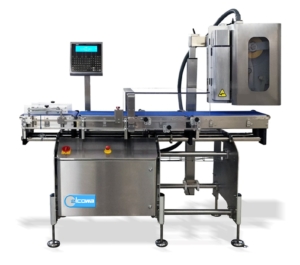 The LS 4500 range allows to weigh and print labels at high speed (up to 200ppm). These will be automatically positioned on the products.
The LS 4500 can label up to 140 packages per minute with fixed or variable information (weight, price) without stopping the production line. The LS 4500 print head is of very high resolution allowing high precision printing, the realization of logos and the use of all fonts.
The universal modular design of the frame of these units is made of 304 stainless steel and offers great versatility and adaptability. This dynamic unit can be integrated into a complete line including other equipment such as a conveyor, ejector, deflector, aligner, metal detector or X-ray inspection system, already offered by ELCOWA.
Installed directly at the end of the production line, this weighing and labelling unit will be able to compose batches and/or pallets and will communicate directly with your PC or network via Ethernet or RS 232.
Thanks to the integrated software DIS and DLD, it will be possible to configure all the elements that make up the equipment and there will be the possibility to design the labels graphically.
TECHNICAL INFORMATIONS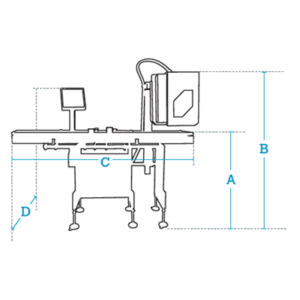 A : 850 – 950 mm (adjustable height)
B : 1.485 – 1.895 mm (adjustable height)
C : 1.970 mm (with conveyors L400-L400-L600)*
D : 795 mm (width of the conveyors + width of the console. For W280 conveyors)**
INTERESTING

FEATURES

High speed weighing: up to 250 ppm
Fixed/variable weight/price labeling
Generic traceability on the label
Compliance with European Regulation 1169/2011 on food information.
Bar codes: EAN-8, EAN-13, EAN-128, CODE 128, ITF-14, QR code, GS1 Datamatrix and GS1 Databar (up to 4 bar codes per label)
Pneumatic applicator: maximum productivity.
Adaptable cup applicator: wider range of label sizes.
MID certification: approved equipment.

TYPES OF WEIGHING

Dynamic or static

LABELLING SYSTEM

Print type: Direct thermal (DT) or thermal transfer (TT)
Print head : 4″ (long life)
Resolution: 8 dots/mm
High speed printing: Up to 250 mm/s.
Label applicator type: Pneumatic piston. In the upper labeler, possibility of 90º rotation of the applicator and "Air-jet®" air blowing. In the lower labeler, by simple contact.
Position of the label applicator: Top, bottom and/or side (front or rear, consult us).

LABELS

Maximum width of backing paper: 110 mm
Inner diameter of the cardboard core of the label roll: Ø76 mm (the cardboard seal must be the same width as the backing paper).
Dimensions: From L 40 x W 40 mm, up to L 120 x W 102 mm.

CONSTRUCTION

Structure: AISI 304L stainless steel and anodized aluminum
Belts (all with FDA approval) : Standard
High speed : super adherent
Slides : for the expulsion zones
Guides: AISI 304L stainless steel, anodized aluminum and cestilene.

CONSOLE

Material: AISI 304L stainless steel
Qwerty" keyboard and backlit LCD graphic display
Height adjustment of the upper labeler from the console

COMMUNICATION WITH THE PC

Ethernet TCP/IP
2 RS-232

SUPPLY AND COMPRESSED AIR

Electricity: 230 V / 50 Hz; 115 V / 60 Hz
Air: max. 150 l/min (at 6-8 bar)
* These measurements correspond to the sum of the separation, feeding, weighing and labeling conveyors. For other dimensions, contact us.
** For other dimensions, please contact us.