MANUAL WEIGHING AND LABELLING MACHINE
For the agri-food industry
The ELCOWA LP 5000 manual weighing and labelling machines can be easily integrated into your production lines and logistics warehouses. They are recommended for connection to weighing platforms or weight indicators. Advantages: compact, easily movable, cleanable, intuitive operation and easy maintenance.
LS 4500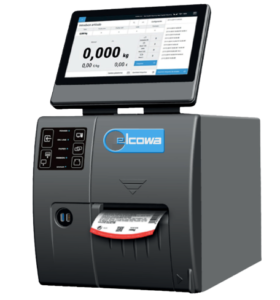 The LP-5000 labeler is specifically designed for food industries with harsh environments that need to manually weigh and label, quickly collect the weighs and export them to their computer systems.
It is a labeller – weighing indicator for manual labelling of products with variable, fixed and/or unit weight.
Suitable for medium-low production volumes or products with special shapes that do not allow automatic labelling, special labels.
Particularly ideal for small spaces.
TECHNICAL INFORMATIONS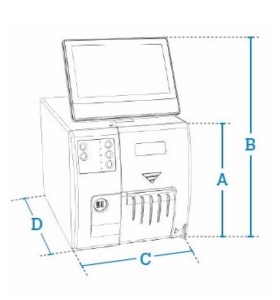 A : 310 mm
B : 498 mm
C : 300 mm
D : 470 mm
INTERESTING FUNCTIONS

Ability to label weight or fixed/variable quantity
Checkweigher mode with fill display on status bar
Access to settings and uses based on user levels
Complete and easy to edit job information for quick on-screen modifications (customer, lot, price, tare, dates, traceability, label format…)
Label designer in the equipment for the creation and edition of formats
Tares: fixed, glaze percentage, cumulative…
Generic traceability on label
Management of totals on the label (up to 3 levels) to facilitate edition and reprinting
Possibility to print the text in different languages (UNICODE)
Own print fonts and all types of TTF fonts
Easy loading and processing of logos and images
Front USB interface for full or partial backups, logo and image loading, and data import/export
Configure and print most one- and two-dimensional bar codes
Adapted to comply with EU Regulation 1169/2011 on food labeling information
Automatic or manual printing of variable weight product labels, or pre-programmed for fixed weight or non-weighed items
Suitable for legal metrology

WEIGHING OPTION

Connection to 1 weighing platform for up to 16 load cells with metrological verification
Optional: Connection to a second weighing platform with up to 16 load cells with metrological verification.
Wide range possibility.
Accuracy: Multi-range (3,000 divisions), single-range (6,000 divisions), multi-interval (3,000 divisions).

LABEL SYSTEM

Type of printing : Direct thermal (DT)
Optional : Thermal transfer (TT) (ribbon)
Print head : 4″ long life with history control
Resolution: 8 dots/mm
Movable paper sensor (adjustable according to the width and type of label)
Printing speed: Up to 250 mm/s
Printer usage monitoring for predictive maintenance

LABELS

Dimensions : From L30 x L30 to L101.6 x L500 mm
Maximum width of the bottom paper: 110 mm
Possibility to use paper, polypropylene and perforated cardboard labels

CPU

Processor: Celeron N3160
RAM: 4 GB DDR3 (expandable to 8 GB)
Hard disk: 128 GB
(Possibility of evolution)

CONSTRUCTION

Structure: AISI 304L stainless steel, anodized aluminum and textured ABS
Console : ABS plastic

DISPLAY

10.1″ projected flat TFT capacitive touchscreen (1024 x 600 resolution)

COMMUNICATIONS

1 TCP/IP Ethernet
2 RS-232
2 USB front (3.0 + 2.0)
Optional Wi-Fi

POWER SUPPLY

110-230 VAC 50/60 Hz