PQC Service – WEIGHT, UNDER WEIGHT and OVER WEIGHT CONTROL
In agri-food, pharmaceutical and cosmetic products
Elcowa has been marketing scales, weighers and checkweighers since the early 90s. We master all the metrology standards or approvals in force.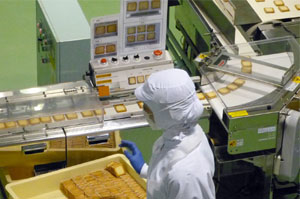 In a business transaction, the quantity delivered must be at least equal to the quantity advertised. The consumer when buying in bulk or already pre-packaged products must not be harmed and the industrialist seeks to optimise because each superfluous gram represents a financial loss in the long term.
You have made a promotional offer, + 20% of product offered and the operators have not set up your equipment accordingly? You are looking to control a batch according to TU1 and TU2 standards? Your weighing equipment has malfunctioned?
We have at your disposal a fleet of equipment to answer this type of applications, scales, checkweighers with integrated ejection systems. With our selected and experienced personnel for the control, we can also bring you all the weighing guarantees to establish you a certificate of conforming batch and put your products back on the market or at your final customers.
ELCOWA, 25 years of experience in the search for foreign bodies, defects or weight control, has a fully dedicated control centre in Mulhouse to help you quickly manage this type of crisis. Leader in Europe in these fields, do not hesitate to contact us for any information, advice, free tests, estimates or controls.
Re-weighing a batch to comply with legislation, drawing up a weighing certificate is possible!