PQC Service – RE-PACKING, a complementary service
In agri-food, pharmaceutical and cosmetic products
Re-Packing defines the action of repacking a pallet from one configuration to another to satisfy a sales order, a marketing change, a palletizing error or any other need.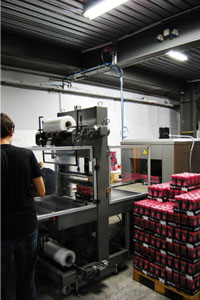 Some examples of interventions :
– Modification of the palletization plan
– Change in the number of layers produced
– Shrink-wrapping of product trays
– Deflagging of product trays
– De-labelling of trays
– New labelling
– Pallet type exchange
– Recovery of damaged pallets
– Rebanding
– Addition of reinforcement angles
– Installation of stabilization sheeting
You can consult us for any other type of re-packing. Re-packing can be combined with a search for foreign bodies or a weight check (TU1/TU2 compliance).DPM, RAYONS-X, AIMASCAN, three technological solutions to meet your needs
ELCOWA, 25 years of experience in the search for foreign bodies or defects has a fully dedicated control centre in Mulhouse to help you quickly manage this type of crisis. Leader in Europe in this field, do not hesitate to contact us for any information, advice, free tests, estimates or controls.
Think about getting your pallets back in shape!