Dust removal head for sealing planes
PRODUCT
During the filling stage of the trays of breaded products (fish, chicken, vegetable patties), fluted products, egg rolls, biscuits, doughnuts, pancakes etc., residues such as breadcrumbs, crumbs or sesame seeds are deposited on the edges. When the tray is to be sealed, these poorly positioned residues prevent an airtight seal.
In case of a leak, the product becomes unfit for consumption and must therefore be discarded. This leads a significant waste and financial losses for the distributor and manufacturer as well as a high health risk for the final consumer.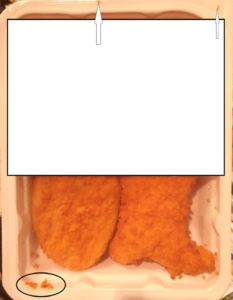 Our dust removal solution guarantees a leakage risk close to 0 and significantly reduces the rate of non-conforming products.
The principle lies in a tailor-made and compact dust collection box combining ionization and suction. Indeed, in order to eliminate the "sticking" effect of the residues on the edges of the trays, the ionization will neutralize the electrostatic charges and thus facilitate the aspiration.
The box is installed above the belt plane before sealing the tray. It is connected to a high voltage generator and a a stainless steem vacuum system with removable pre-filters for easy cleaning.  . When the tray passes under the ECOVAC 2T dust extraction unit, the dust is instantly removed from its electrostatic charges and residues (crumbs, breadcrumbs, etc.) are sucked away.
THE SEALING CAN THEN BE DONE IN
GOOD CONDITIONS!